JAN JAMES - Calling All Saints
JAN JAMES 
Album : Calling All Saints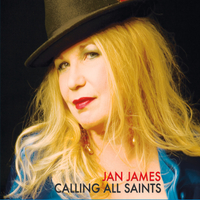 website : http://www.janjames.com/
facebook : https://www.facebook.com/JanJamesMusic/
label : Blue Palace Records / Inakustik
http://www.in-akustik.de/en/music-media/album/james-jan/calling-all-saints/
promo : Coast to Coast Company.
http://www.coasttocoast.nl/
video : https://www.youtube.com/watch?v=7rFioAU9y0Q
listen : https://store.cdbaby.com/cd/janjames1
I'm a Gambler (4:45)
Roll Sweet Daddy (3:59)
Heart of the Blues (4:23)
Losing Man (6:22)
Cry Cry Cry (4:05)
It's So Easy (3:00)
Calling All Saints (4:25)
Everybody Wants to Be Loved (5:02)
Bucky Blues (5:04)
Battle of Jesse (3:16)
Trouble with the Water (4:37)
Black Orchid Blues (5:44)
totale tijdsduur: 54:42
Tijdje geleden dat wij nog iets van Jan James vernamen maar met "Calling All Saints" ( Blue Palace Records / Inakustik) - haar tiende studio -album - is 'the Rock Rhythm Blues Diva from Chicago' terug van nooit weg geweest. Maar van uit het oog uit het (Bealestreet) hart was hoegenaamd geen sprake want daarvoor ligt deze blonde / roodharige schoonheid in  ....de bovenste lade bij ondergetekende. Samen met Craig Calvert ( guitars), Gordon Patriarca / bass, Mike Bruno / drums, Bob Long / keys en David Semen / harmonica tekenen zij , wat mij betreft, voor één van de beste 'klassieke' bluesalbums van 2017....
Jan James laat er met de opener "I'm a Gambler", de prima titeltrack "Calling All Saints", "Trouble with the Water" en een schitterend, kloppend "Heart of the Blues" meteen geen twijfel over bestaan, haar raw & powerful stembandjes zijn nog steeds in supervorm, de scheurende gitaren van partner Craig Calvert en Bob Long's keys zijn nooit ver weg uit de buurt en dat leidt naar een aangename ontmoeting met een "(Rock &) Roll Sweet Daddy" ( with backing vocals from Cheryl Wilson / Joyce Faison), het tot meezingen uitnodigend "Cry Cry Cry" en een bluessleper ("Losing Man") die aan duidelijkheid niets te wensen over laat .....
Het lijkt allemaal "So Easy" als je Jan James & Co aan het werk hoort / ziet , emoties & hartstocht  ( "Everybody wants to be loved" , "Bucky Blues") die schreeuwen om aandacht, moreel / moraal met "the Battle of Jesse" en "Black Orchid Blues" met andere woorden : voor elk wat wils....Waar wacht u nog op ? (Swa) 
Blues Rock with a Country Soul Voice. Rough and brilliant honesty in her powerful vocals. A committed collection of memorable songs with outstanding performances on vocals and guitar